Search Engine Marketers have skills that are found to be of extreme value by many. People within the marketing community, students and non-profit organizations can all benefit from your help! I have created this simple guide to help you identify 10 unique ways you can give back as a Search Engine Marketer.
Google Ads Help Community
The Google Ads Help Community offers an opportunity to help those overcome problems that you have likely faced at some point in your career using Google Ads. It is "a place for Google users to ask questions or provide feedback about Google products and services, discuss products and services with other Google users and enthusiasts, provide tips for using Google products and services to the community, get help from other users and Google enthusiasts on all of the above". Not only does joining the community and answering users' questions help others, but it also provides a sense of self satisfaction and bragging rights. The more answers you provide, the more opportunity for ultimate bragging rights. The community offers a badging system to indicate members level of participation (as seen below).
 Silver Product Experts: New members who are developing their product knowledge
 Gold Product Experts: Trusted members who are knowledgeable and active contributors
 Platinum Product Experts: Seasoned members who contribute beyond providing help through mentoring, creating content, and more
 Google Employees: Guides and community managers who work at Google
 Google Community Specialists: Google partners who lend their expertise to help maintain our communities
Create Educational Videos
Many people are visual learners, we have an opportunity to help these folks too! There are 2+ billion users per month on YouTube. Knowing this statistic, there is no doubt that there is a healthy portion of users that would be interested in learning about paid search.
Note:
Don't giveaway your company's secret sauce
Use a dumby account if possible (I'm sure whoever you work for wouldn't want others to know exactly how their accounts are structured)
Give your professional opinion if you feel it is necessary, but try to eliminate all biases
Ensure the information you provide is accurate and concise (ensure you are not confusing the viewer)
Bonus: Check out this tutorial on how to make tutorials https://www.techsmith.com/blog/instructional-videos/
Write Educational/Informative Articles
In order to serve the paid search community, you can write content. This content can range from articles about emerging trends in our industry or step by step instructions on how to do something. You can host these articles on your own website or share them with major publications such as Search Engine Land or Search Engine Journal. I will also gladly publish your article, if desired.
Perhaps look at some of my personal heroes' work for inspiration: Ginny Marvin, Frederick Vallaeys, Nils Rooijmans, Christi Olson
Create a Digital Marketing Related Podcast
Start a monthly, bi-monthly or quarterly meet up with others who share interest in your paid search passion. Starting a meetup group connects you with passionate people looking to share ideas, learn, and well… get out of the house. You can use this platform however you like whether you want it to be collaborative in nature or pure education sessions where you teach those who are interested in the marketing space.
Mentoring is a great way to give back to the paid search community. There are tons of people out there that want to learn paid search but just don't know where to start, what to do or how to do it. We as professionals can help them! Dedicate as little or as much time as you want in order to provide support to those who need it. Not only does the mentee benefit a ton, but you as the mentor also will gain valuable leadership and communication skills throughout the process. Interested in becoming a mentor? I recommend checking out https://mentorcruise.com/mentor/ or https://www.builtbygirls.com/.
Speaking at a local high school or college could be something of interest to both students and professors. More and more schools are offering web development, programming and marketing courses. While professors may be teaching students how to create websites, it's possible that students could use some information about how to drive traffic to their website outside of SEO. It can't hurt to reach out to local professors who teach these subjects and see if they would be interested in you providing insight into industry or giving a brief glimpse into the world of paid media. Doing this can also immensely improve your public speaking skills.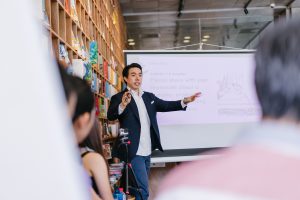 Join the Paid Search Association
Although relatively new, the Paid Search Association has made a promise to help others grow and advance in the paid search industry. The association plans to do this by providing all of those who are involved in paid search with services and information aimed at advancing individuals and organizations. You can start contributing today by signing up and creating/responding to posts on the members' forums.
#PPCChat is a popular twitter hashtag, but more importantly is a weekly Twitter chat that typically focuses on Paid Search related topics. Matt Umbro started it in 2011 and Julie Friedman Bacchini (@neptunemoon) is now the host. Don't be shy, the #PPCChat community is filled so many friendly and brilliant folks!
Volunteer for a 501(c)(3)